Checkers is a fun game for the entire family, and this personalized photo checkerboard makes it even more enjoyable. An ideal gift for Father's Day, birthdays or anniversaries, the checkerboard also does double duty as a box to hold checker pieces or personal items.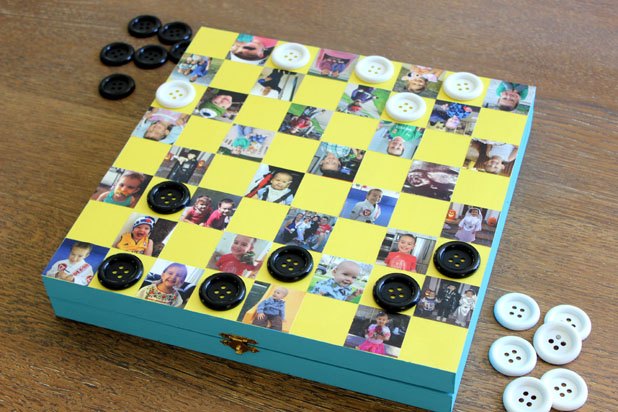 (Jonathan Fong)
Things You'll Need
Two 12" wood artist panels

Acrylic paint in two contrasting colors

Decoupage glue

Paint brushes
32 family photos

1 1/2" square punch

Two small hinges

Small box latch
Step 1
You will need two 12" wood artist panels to make the photo checkerboard. They are available at art supply stores. Look for the wood artist panels that are "cradled," which means the back has wood framing on all four sides. This way, when the two panels are placed back to back, they will form a box.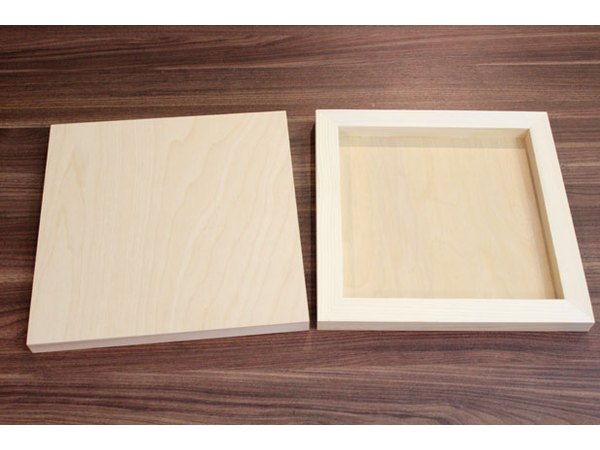 Jonathan Fong
Step 2
Paint the front side of one of the wood panels with acrylic paint. Choose a light, neutral color that will will help the photos stand out, like the yellow in the example.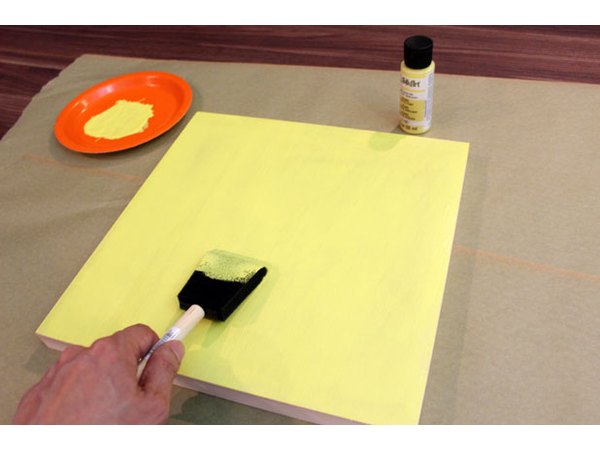 Jonathan Fong
Step 3
Paint the sides of the wood panels a contrasting color. Also, paint the wood framing that is on the back of the panels. You do not need to paint the front side of the second wood panel, as that will be the bottom of the checkerboard box.
Jonathan Fong
Step 4
A checkerboard has eight rows of eight, or 64 squares, so this photo checkerboard will have 32 photos and 32 blank squares. Because the wood panel is 12" x 12", each square will be 1 1/2" in size. Gather 32 family pictures and photocopy them so they are just over 1 1/2".
Jonathan Fong
Step 5
Cutting all 32 photos so they are exactly 1 1/2" square can be cumbersome, but the task is simple with a 1 1/2" square paper punch. Just position each photo in the punch and press down, and all the photos will be the same size. Look for paper punches in your local crafts store.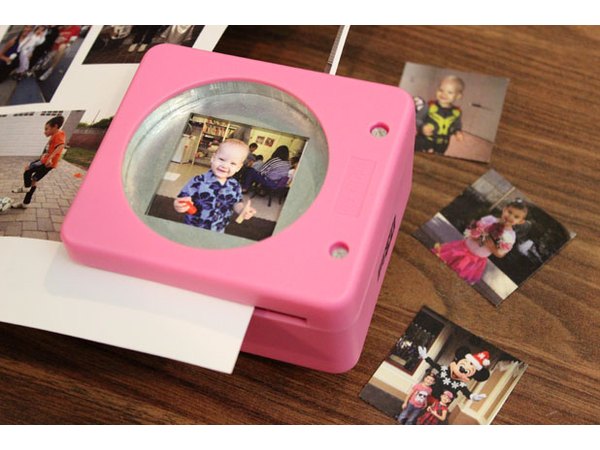 Jonathan Fong
Step 6
Position the photo squares on the top side of the wood panel with four rows facing you, and four rows facing the opposite direction.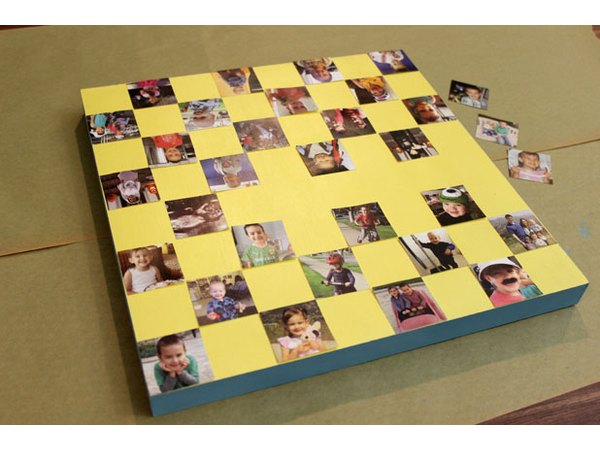 Jonathan Fong
Step 7
Once you have all 32 photos exactly where you want them, adhere each photo one at a time. Lift the photo from its position, apply a layer of decoupage glue to the wood panel, then reposition the photo on top of the glue and press down with your fingertips. When all 32 photos are glued in place, apply a layer of decoupage glue to the entire top surface of the checkerboard to seal the photos. Decoupage glue, which can be found with brand names like "Mod Podge," is available at crafts stores.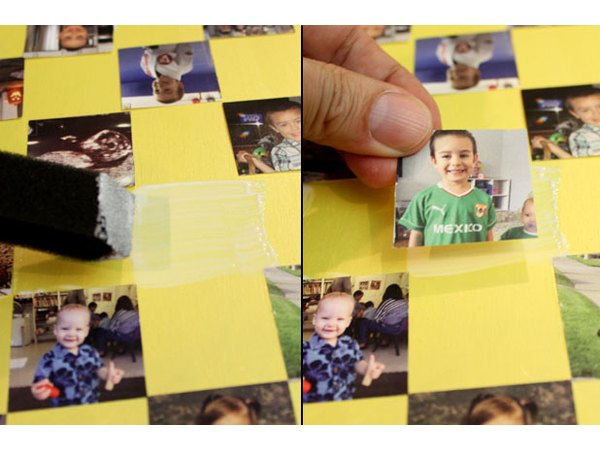 Jonathan Fong
Step 8
Place the two wood panels on top of each other back to back to create a box. Screw in two small hinges, about two inches from each edge, to connect the wood panels and allow them to open. Look for hinges in your local hardware store.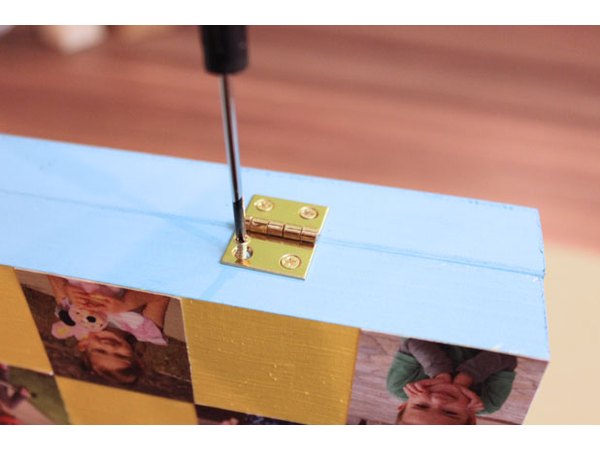 Jonathan Fong
Step 9
On the opposite side from where the hinges are, screw in a small box latch in the center so that the two panels can be closed. Look for box latches in your local hardware store. If your store does not carry latches, you can find them online.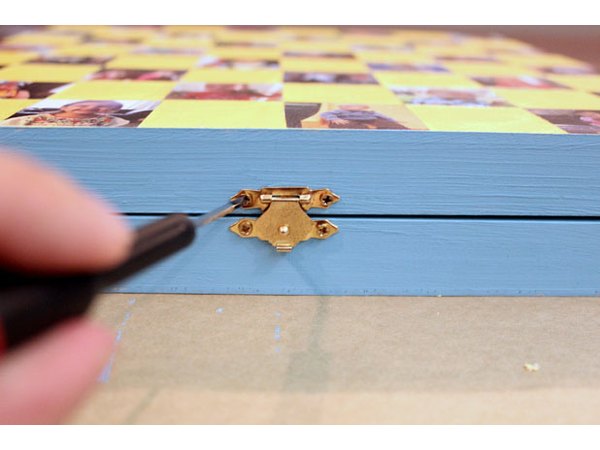 Jonathan Fong
Step 10
Large buttons make great checker pieces. You will need 12 pieces in one color, and 12 in another. And they can be conveniently stored inside the checkerboard box. Now let the games begin!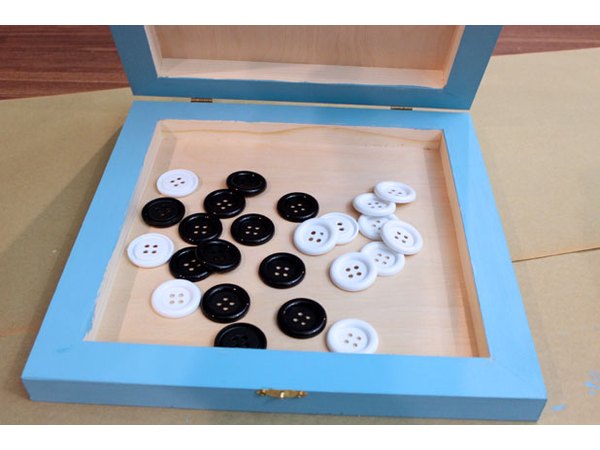 Jonathan Fong
Tips & Warnings
Your checkerboard does not have to be 12" x 12". Whichever size you choose, just divide the length by 8 for the size of each photo square.
When photocopying pictures, be sure to use a laser printer at a local copy store, rather than your home inkjet printer. Inkjet color can run when applying the decoupage glue.
Promoted By Zergnet