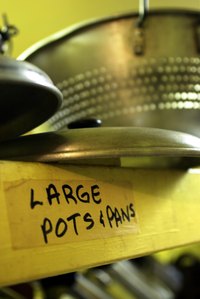 At first, you may think that luglug noodles sound like an exotic grain that could be difficult to use. Fortunately, the luglug noodles are easily prepared to add to any recipe and can be used much like other varieties of Asian noodles. These semi-transparent noodles are a Philippines specialty made of water and cornstarch. Whether you are looking for a new, gluten-free pasta alternative or simply interested in expanding your culinary horizons, luglug noodles could be an ideal way to shake up your normal routine.
Things You'll Need
Fill a large pot of water and place it on the stove, bringing it to a boil over medium-high or high heat. Though an exact measure isn't necessary, most packages call for roughly 5 quarts of water for each pound of cornstarch luglug noodles.
Turn off your stove and remove the pot from the heat before adding the noodles. Although you won't need to boil the luglug noodles, you do need to soak them in hot water. Boiling it first makes sure that the water is hot enough to soften the luglugs.
Leave the noodles soaking until they are soft, roughly 10 to 15 minutes. Drain and rinse the luglug noodles in cold water.
Add the cornstarch noodles to soups, stews, salads, casseroles or other recipes. Like cellophane noodles, which are typically made from mung bean starch, luglug noodles readily absorb flavors of whatever recipe you choose to incorporate them into. You can also pan or wok fry them until the are lightly crispy.