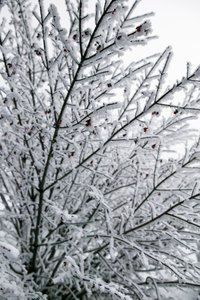 With a little glue and some crystal-like vase filler, you can get the look of winter ice sparkling on bare branches for holiday and special occasion decorations. When arranged with candles or mini-lights, these "iced" branches glisten beautifully and add a special glow to weddings and receptions as well as Christmas dinners and parties. The supplies you need are available at craft stores, and you might even find the perfect branches outside your front door.
Things You'll Need
Diamond vase filler
German glass glitter
Spread newspapers to cover your working space, with a loose sheet of newspaper on the top. Pour some vase filler into a pile in the center of the top sheet of newspaper.
Spread tacky glue along the branch you want to decorate. Use the bottle tip to spread the glue in a smooth, medium-thick line along the branch.
Fold the paper to hold the the vase filler. Dip and roll the branch so the filler sticks to the tacky glue. You can also sprinkle filler over the branch. Allow the branch to dry for 45 minutes.
Repeat with more tacky glue and vase filler to fill in any bare spots on the branch. Add some German glass glitter at this step for extra sparkle. Gently shake off excess filler or glitter and allow the branch to dry thoroughly.
Arrange your iced branches in a vase or display them along a mantelpiece with other holiday decorations.