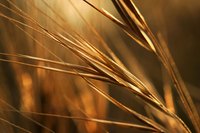 The dead grass fills the green bin, spilling out onto the sidewalk and driveway. Rather than throw away organic materials, only to replace them with bags of compost from the garden center, you can build your own compost pile to naturally decompose the dead grass and clippings. In as few as eight weeks, the grass and yard waste become a warm, crumbling mass of fresh compost, ready to nourish your garden and potted plants with nitrogen, phosphorus, potassium, micronutrients and beneficial bacteria.
Things You'll Need
Gloves
Safety glasses
Dust mask
Rake
Shovel
Newspapers or cardboard
Green ingredients
Brown ingredients
Tarp
Long-stemmed kitchen thermometer
Pitchfork (optional)
Put on gloves, safety glasses and a dust mask to protect your skin, eyes and lungs from bacteria, debris and dust while building the compost pile.
Rake the dead grass into a pile, and remove it from the lawn or garden. Place it next to the site for the compost pile.
Turn or loosen the soil under the compost pile site with a shovel. This allows excess water to soak into the soil as the decomposition process works.
Put a thick layer of newspapers or several sheets of cardboard on top of the soil. The minimum size for a compost pile is 3 by 3 by 3 feet, so arrange the newspapers to cover a 3- to 4-foot square area. Wet the newspapers thoroughly before building the compost pile.
Spread green and brown ingredients in alternating 1- to 2-inch layers over the cardboard. Begin with a 2-inch layer of manure, and then add a 1-inch layer of the dead grass. Continue adding layers of green and brown materials until the pile is 3 feet tall.
Sprinkle the compost pile with water until it is damp but not soggy. Cover it with a tarp to protect it from excess water from rain or nearby sprinklers.
Check the temperature with a long-stemmed kitchen thermometer in two to three days. The pile should heat to 155 degrees Fahrenheit before you turn it to mix the ingredients.
Turn the compost pile with a shovel or pitchfork each time the internal temperature reaches 155 degrees. Add water if it begins to dry out; the pile should remain moist while the bacteria work to decompose the dead grass and other ingredients.
Crumble the compost in your hands when the pile stops heating. If it is dark and crumbly, like a good garden soil, it is ready to use.