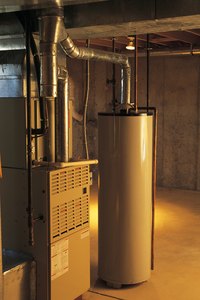 A well-maintained gas furnace can provide reliable service for a decade or more, but problems can still arise. When they do, you would be well-advised to avoid the expense of hiring a repairman by investigating the problem yourself. For some furnace issues, you may indeed require the assistance of a trained professional, but start with a little troubleshooting first.
Start with your thermostat. It may have been accidentally turned off or the batteries may have run down. It should be set on the "heat" position, and the temperature needs to be set above the current room temperature.
Inspect your vents to make sure they are not closed or blocked. If you have closed some vents either to save money or to heat only certain parts of your house, try opening them back up. Sometimes too many closed vents can make your furnace overheat, causing it to shut down. Vents being blocked by furniture often has a similar effect.
Clean or change the air filters in your furnace. The filters gather a lot of with dust and dirt over time, and if they get too clogged, they could block air flow. In most households, filters should be inspected every few months and cleaned or changed if necessary.
Check the blower fan. It may have gotten dirty, in which case it can be cleaned, or it may be damaged, in which case it may need to be replaced. Blower fans can also develop a loose fan belt over time.
Have a look at your ductwork if it is accessible. Furnace problems are sometimes caused by dirty, blocked, collapsed or disconnected ducts.
Check your breakers or fuses. If your furnace is not running at all, it may be the result of a tripped breaker or blown fuse. If this is the case, check your furnace's wiring for potential problems and reset the breaker or replace the fuse.
Chack the burner and pilot light, if your furnace has one. It it is simply off, you may be able to relight it by yourself. If you cannot light it, there may be a problem with the gas valve or furnace control board, in which case you should seek professional assistance.