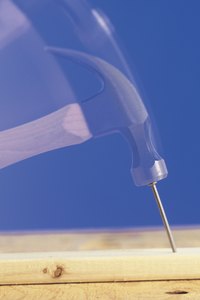 HardiPlank siding is a type of building material made from a combination of sand, cellulose fibers and cement. This durable construction element, manufactured by the James Hardie Company, is resistant to elements such as rain, wind, snow and hail. Attaching HardiPlank siding to the exterior of a home is a fast process once the pieces are cut.
Things You'll Need
Siding nails or Panelfast nails
Hold the piece of HardiPlank siding up flush with the bottom and side of one exterior wall. Place it so there's at least 6 inches between the bottom of the siding and the top of the foundation.
Position a siding nail, if attaching to wood — or a Panelfast nail (a type of fastener with a traditional nail head, but designed for harder materials like metal) if attaching to steel — at a 45-degree angle on the right corner. Place the nail approximately 1 inch below the top of the siding. Drive the nail in with a hammer.
Drive nails through at the rate of one per foot until you reach the end of the board.
Position the next piece of HardiPlank siding so the bottom covers the nail line on the previous piece. Nail into place in the same manner. Repeat this process, cutting pieces to go around any windows, vents or other exterior protrusions as necessary.