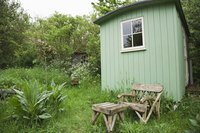 Converting a shed into a tiny house is a tempting project for people low on funds or privacy, or those drawn to miniature objects. Fitting out a shed to make it a comfortable home tests the ingenuity and skills of the handyman. It provides living or study space for college students in the family, or a backyard getaway for parents, at little cost. Add insulation and paneling and some rudimentary lighting fixtures to turn the shed into a house. Plumbing is optional if the main house is available, or explore options for self-contained tiny bathrooms.
Things You'll Need
Carpentry tools
2 or 3 windows that open to the outside
Styrofoam insulation, 1- to 1 1/2-inch thickness
Wood paneling or drywall
Window and door trim material
Siding
Lumber, as needed
Hardware, as needed
Install two or three windows if the shed has none. Make sure two opposing walls have at least one window each. Place each window between the studs or cut studs out for wider windows, with framing adjusted to the rough opening.
Frame the windows with a double header and single sill member. Add horizontal members to the top and bottom of header and the supporting members -- or jack studs -- above. Add a stud on each side of the window, below the sill, plus one in between.
Frame a sleeping or storage space overhead, spanning the width of the shed, taking up not more than half the length. Consult span tables for the size and spacing of joists and post spacing for the loft frame. Construct a ladder for access.
Select spaces in the shed for kitchen, dining, and living/study areas, using the loft posts as "room" dividers. Partition a space for the bathroom, if necessary.
Install Styrofoam boards between the studs and roof framing. Add tongue-and-groove wood paneling or drywall, taping the seams for smooth application of paint.
Install wood trim around windows and the door to cover edges of paneling. Start with the stool for the windows, proceeding with the casing around the outside of the windows. Add window stops and an apron. Use brad, casing and finish nails for trim.
Apply primer and paint to the walls with colors to your taste. Finish the trim with varnish, stain or paint.
Install siding on the outside walls. Use similar materials and technique as you would for a main house, including for eave and soffit detail and window and door trim.
Build or collect multi-purpose furniture, such as a daybed, a folding table or a desk, plus shelves integrated into odd-shaped corners. Use cabinet doors or cloth to cover stored items.