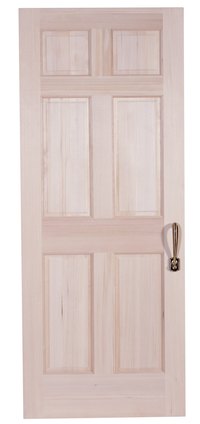 Although antiques can add charm and beauty to your home, they can be expensive. An alternative is antiquing your furniture and fixtures to match your decor. There are a number of ways to antique doors, one of which is by applying an antique glaze over crackle paint. For this application, apply crackle paint with an antique glaze finish to a clean, paint-free wood door.
Things You'll Need
Primer
Paintbrush
Oil-based crackle paint
Sandpaper or steel wool
Hammer
Light chain
Oil-based antique glaze
Apply a primer to your door, using a paintbrush. Make this primer coat even and consistent. Allow the primer to dry.
Paint a crackle-paint base coat on the door, using a paintbrush. This will be the color that shows through the cracks after the top coat is applied. Some brands require two coats of base paint. Follow the directions on your specific brand. Allow your base coat to dry completely.
Apply the top coat of your crackle paint in a quick but uniform manner, using a paintbrush. Make sure the door is evenly coated. Do not spend too much time applying the top coat, as the paint will begin to crack quickly. Allow the top to crack and dry thoroughly before you proceed.
Sand areas of the crackle paint, using a fine-grit sandpaper or steel wool. Remove paint where normal wear and tear would occur. Removing the paint around door handles and along the edges will give you a more natural aged pattern. This process is known as distressing. You can also dent and ding your door to make it look more distressed. To do this, hit your door with a hammer or a light chain to create the marks.
Apply antique glaze. Using a paintbrush, apply the antiquing glaze over the crackle paint. Cover the entire door with an even coat. The glaze should deepen and enhance the old look and feel of your door. The cracks will become more evident as the glaze seeps into the cracks, making them more rich and noticeable.