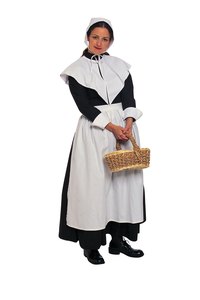 Puritans were a strict group of Protestants who were highly concerned with religious matters -- more so than state matters and politics. Large groups of Puritans migrated to the New England area, particularly Massachusetts Bay, in the early 1600s. For Puritans, this was known as "The Great Migration." They were particularly known for their strict rules regarding everyday life, and a highly conservative lifestyle. Puritans also wore specific clothing, which was also conservative in nature. Making a Puritan costume for a boy or girl can be accomplished with minimal difficulty.
Things You'll Need
Dark dress pants and dress shirt
Black dress shoes
Dark blouse and matching skirt (or dark, full-length dress)
White linen fabric
White butcher paper
Scissors
Stapler or glue
Flexible tape measure
Outfit a girl in a body-length dress or choose a puffy, loose-fitting blouse combined with a dark-colored skirt. Colors to use are dark gray, black or dark blue. For a boy's costume, choose dark-colored pants and a dark, long-sleeved shirt. Black is generally ideal for a boy's costume. Select black dress shoes for both genders.
Measure shoulder to shoulder across the boy's chest. Transfer your measurements to white linen. Draw a rectangle with a height matching the measurements on the linen, except draw the width twice the height of your measurements.
Cut out the stenciled rectangle with scissors. Fold the garment in half at the width. Measure the circumference of your child's head. Draw a semicircle at the center of the fold. Cut the stenciled semicircle out. This lays over the top garment in a traditional Puritan style.
Measure your child's wrist diameter. Cut out two strips of butcher paper to accommodate your measurements plus an inch to allow for a loose fit. Wrap them around the cuffs of the shirt or blouse. Staple or glue the cuffs to the shirt or blouse.
Measure the waistline and length of the girl's dress or skirt. Cut a long rectangle or triangle out of white linen to match your measurements for an apron. Cut out another strip of linen to match the measurements of the waistline plus one foot for a good fit. Tie the apron around the skirt at the waistline.