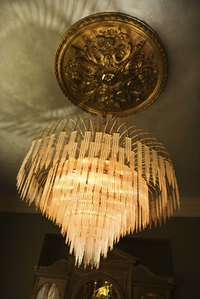 Looking up, you see several ugly holes in your ceiling. Fixing every hole with plaster can be difficult considering the location of the holes and the uncomfortable job of completing an overhead project. Covering the holes with decorative pieces will help you camouflage the unsightly holes while adding an element of decor to the room. A carefully planned paint job, wallpaper and architectural elementants are options that add charm to the room while also hiding the ceiling's imperfections.
Things You'll Need
Paint
Paint brush
Wood
Molding
Tiles
Medallions
Wallpaper
Fabric
Decorations
Fish string
Paint your ceiling in a decorative pattern. Add a ceiling mural or paint a nature scene such as flowers or lily pads. Cover the holes with the leaves or lily pads so the holes are covered with dark green paint. Paint a pattern such as stripes or polka dots that cover the areas where your holes are located.
Cover your ceiling with wooden planks. Use a wood such as cedar or pine for a natural look. Leave the wood unpainted for a rustic look. As an alternative, paint the wood or use paneling to cover the holes in your ceiling.
Add architectural details that cover the holes. Install batten molding to the ceiling, positioning the strips of molding to cover the existing holes. Paint and install wooden beams as an alternative.
Install decorative ceiling tiles. Use tiles that look like tin for a tin ceiling look, or use tiles that feature a scroll design for an elegant touch.
Add medallions. Medallions are typically round in shape and can help cover the ceiling holes. Opt for medallions that look like plaster molds to make the medallions look like they have always been part of your home's architecture.
Cover your ceiling with wallpaper. Wallpaper is available in thousands of styles that will suit any decor and cover the holes.
Cover your ceiling with fabric. Apply the fabric so that it lays flat or tack it to the wall at regular intervals to create a swag effect.
Hang decorative items near the flawed areas on your ceiling. Use fish string or hooks to string items such as lanterns, paper pom poms or paper lanterns from the ceiling. From below, you will only see the decorative items and not the ceiling's imperfections.