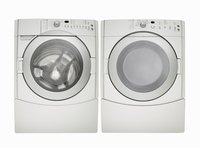 Knowing the material used in your Croscill comforter can make the difference between damaging and preserving it. Croscill sells comforter sets and bedding ensembles that include a bed skirt and two standard shams, with bedding ensembles also featuring matching items such as decorative pillows, drapery and valances sold separately. The fabric content of each Croscill comforter ranges from microsuede to polyester, affecting the manufacturer's suggested cleaning method and care label instructions.
Things You'll Need
Croscill care label
Professional dry cleaner (optional)
Mild laundry detergent
Water
Stain-lifting product (optional)
Washer
Dryer
Three tennis balls
Dryer sheet
Read the care label attached to the underside of your Croscill comforter. Croscill comforters that contain a higher percentage of polyester than cotton are not typically machine-washable. Take your comforter to a professional dry cleaner if the label reads "Dry Clean Only" to prevent ruining the material and fill.
Check the Croscill care label for the temperature of water and setting to use with machine-washable bedding. Croscill makes some comforters that are 100 percent cotton or a combination of cotton and polyester that can withstand machine-washing.
Rinse stains on your comforter with a mild detergent and cold water, or spray a stain-lifting product on them to pretreat, if necessary. Set your machine to cold water and the gentle cycle for five minutes, unless the Croscill label specifies otherwise. Pour a mild laundry detergent into the washer. Place the bedding in the washer and let the machine run through the cycle.
Remove the comforter from the washer and place it in the dryer. Add three tennis balls to the dryer to fluff the comforter and prevent fill from bunching during the drying cycle. Add a dryer sheet to help de-wrinkle the comforter. Dry the Croscill comforter on low heat to prevent shrinking.