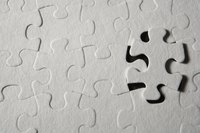 Some jigsaw puzzles are such a monumental feat that you want to frame them once you fit the last piece into the puzzle. The most common way to prepare a puzzle for framing is to paint a coat of glue on the surface to freeze the pieces in place, so that you can move the puzzle into a frame. If you want to avoid applying the epoxy to your pieced creation, you can still get it into a frame to preserve your accomplishment for years to come.
Things You'll Need
Finished jigsaw puzzle
Tape measure
Picture frame (with glass and backing)
Measure the finished puzzle with a tape measure. Note the measurements.
Acquire a frame that is as close to the size of the puzzle as possible. Select a shallow frame that is not thick on the side so that there is little depth or room in the frame. Securing the puzzle in a tight frame is what will keep the puzzle intact.
Take the frame apart. You should have three pieces: the frame, the glass and the frame backing.
Hold the frame backing face side up immediately next to the edge of the table. Hold the backing even with the table's surface so that it is almost like a continuation of the tabletop.
Slide the puzzle slowly across the surface of the table toward the edge where the frame backing is held. You must have two people executing the sliding portion of the project, one person to slide, the other person to hold the backing steady at the edge of the table.
Slide the puzzle to the edge of the table. Move it slowly onto the frame backing. The puzzle pieces may separate in a couple of places, but you should be able to mend that quickly once it is on the backing.
Lay the open frame face down on the table.
Lay the glass on top of the puzzle. Sandwich the puzzle securely between the two pieces. Turn the layered puzzle and frame pieces over so that the glass is face down. Hold the glass and backing securely at opposite ends so that nothing can shift during the turn. You may need two people for this step, depending on how large the puzzle is.
Lay the layered components in the frame. Hold the glass and backing firmly until it is in the frame.
Turn the brackets on the back of the frame to lock the backing and puzzle into place.