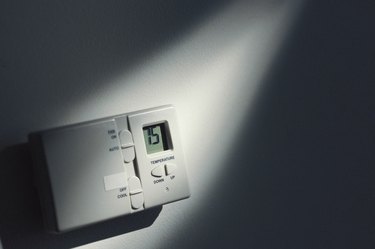 The Honeywell TH6000 thermostat maintains your home's temperature with an automatic program that lowers or raises the indoor temperature based on the time of day. The automatic program is configured to maintain the temperature for a balance of comfort, energy use and costs, but can be manually programmed to a customizable setting. Manual adjustments to your thermostat can increase your use of energy and the cost of your energy bills, as choosing colder temperatures in summer or warmer ones in winter will require more energy. The thermostat provides a reset feature if you choose to remove your manual configuration.
Step 1
Push "Hold" on the front of the thermostat for two seconds to temporarily disable the automatic program.
Step 2
Push the "Up"or "Down" button to increase or decrease the current temperature setting respectively.
Step 3
Press "System" to adjust the thermostat's setting between "Heat" or "Cool." The System box displays the current temperature setting on the thermostat's screen.
Step 4
Press "Run Schedule" if you want to cancel the manual settings and return to the programmed settings.