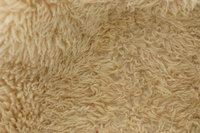 You've rearranged your living room and now you're faced with those deep impressions in your carpet where your furniture previously sat. Those dimples, also called matting, are caused by the weight of your furniture pushing down on the carpet fibers and compressing them. Heavier furniture will cause a deeper dimple. A carpet with a deeper pile is more prone to dimpling, while acrylic carpet fibers also have a poor resistance to dimpling. But no matter what type of carpet you have, there are some steps you can take to remove those furniture dimples from your carpet.
Things You'll Need
Set your vacuum to the lowest floor setting and vacuum the area where the furniture dimples are located. Not only will this pick up any loose dirt in the carpet, but also will start to loosen up the carpet fibers so they can bounce back up.
Gently scrape the furniture dimples with a butter knife to loosen the compressed carpet fibers.
Place a steam iron above the carpet and let the steam saturate the dimpled carpet. Take extra caution to keep the iron from coming in contact with the carpet because a hot iron will burn the carpet. The steam will help puff up the carpet fibers and loosen them.
Use a screwdriver or crochet hook to dig under the carpet fibers and pull them up if the dimples are severe and none of the previous steps have worked.