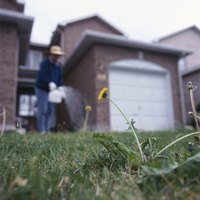 Weeds are an inevitable nuisance in your lawn and garden. If left untreated, weeds can destroy the lawn by crowding out and replacing the grass. Chemical garden treatments contain powerful weed-killing solutions, but also negatively affect your lawn, causing chemical burn patches. Natural weed-control methods involve pulling out weeds by hand, as well as using nontoxic household products to eliminate the weeds while preserving your lawn.
Things You'll Need
3 cups of white vinegar
1 tablespoon of dishwashing liquid soap
Spray bottle
Mix 3 cups of vinegar with 1 cup of water and add 1 tablespoon of dishwashing liquid soap to the solution. Shake the ingredients well, mixing them up. Spot spraying the weeds burns their roots. Spot spraying is necessary rather than spraying all area, as vinegar burns the lawn if the solution spreads beyond the weeds.
Respray the natural weed-killing solution once a week, killing remaining weeds.
Slip your hands into gardening gloves protecting them from thorny weeds and manually pull the weed out of the ground at the roots. Pull out the weeds and all of its roots to prevent weed regrowth. Wetting the ground around the weed makes removing its roots easier.
Use a gardening hoe against the weed if removing by hand is not possible. Weeding the garden weeds is effective when the weeds are small, as the weeds have not had the chance to spread out underground.