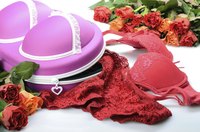 Underwear roses are fake roses made from lacy lingerie and a few simple craft supplies. A bouquet of them is a sweet and distinctive gift for that special girl in your life; it also makes for a fun bridal or baby shower decoration. The biggest benefit of faux flowers is that they will not wither away in a week, so they can adorn a bedroom or living area for years.
Things You'll Need
Lacy panties or panties with lace trim
Floral wire
Lay a pair of panties on a flat work surface, with the crotch area facing toward you. Fold the crotch area up to the halfway point of the panties. Then, grasp the bottom of the panties and fold it to the same halfway point in the middle of the underwear.
Lay an 8-inch piece of thick floral wire down in the middle of the panties, with the top of the wire 1 inch below the top elastic.
Grasp one side of the panties, and start rolling it toward the middle. When you reach the wire, roll the panties over the wire, and continue to roll them all the way to the other side. Hold the underwear rose in your nondominant hand.
Place the end of the floral tape at the midpoint of the rose. Tightly wrap it around the middle of the rose. Continue to wrap it around the rose, thicker near the top of the floral wire, then gradually thinner as you work your way to the pointed end at the bottom. You can leave the bottom of the wire exposed if you choose. Secure the floral tape by breaking it off and tightly wrapping it around itself.
Place two or three silk leaves on the side of the rose, with the ends at the bottom of the rose, and wind more floral tape around them.
Repeat the entire process with several more roses until you have enough for a bouquet.