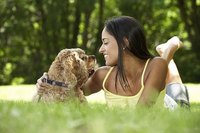 When nature calls, dogs do what they must, where they must (after all, a pristine green lawn is a human invention, far beyond the comprehension of the canine brain). The brown spots caused by urine are simply the result of too much of a good thing--namely, an overconcentration of nitrogen, which burns the grass.
Things You'll Need
Garden Hose
Grass Seed Or Sod
Consider the kind of maintenance your lawn gets. The soil beneath a highly fertilized lawn already contains large concentrations of nitrogen--and a little more, courtesy of a dog doing his duty, is enough to push the grass over the edge. (Female-dog urine is not more potent than that of males. It causes more trouble simply because females tend to urinate all at once in one spot.)
Turn on the hose and flood the spot if the deed has just been done. Even within a few days, a thorough flushing should head off any damage, and before long the grass will grow back as good as new.
In cases where the damage has been in place for a while, dig out the damaged turf and flush the soil with plenty of water to dilute the excess nitrogen.
Reseed or resod the spot.