Things You'll Need
5 containers

Chemical-resistant gloves

Chemical resistant foot wear

Goggles

Dust mask or respirator

Paint thinner

Sulfuric acid

Liquid copper

Nickel strike

Chromium solution

Pliers or channel locks

Dry rags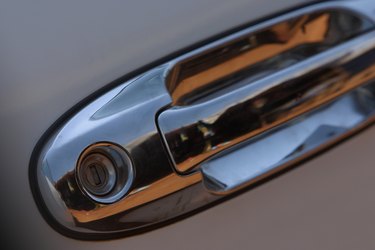 Chrome plating, though not a solid metal, can give many metal surface a shiny metallic look. But if chrome is not carefully maintained, over time it will begin to wear off. It is often recommended to refer chrome replating to a seasoned professional due to the potentially hazardous chemicals involved in the plating process. Still, it is possible to safely do chrome plating from your home, provided you have the correct safety equipment.
Step 1
Prepare your work area. Move all materials to a well-ventilated room away from all food, furniture and clothing. Put on a pear of chemical-resistant gloves, shoes and protective eye wear.
Step 2
Lay out five buckets and label them "Paint thinner," "Sulfuric acid," "Liquid copper," "Nickel strike" and "Chrome solution." Make sure each container can fit the metal you are replating, and fill each container according to its label.
Step 3
Soak the metal in the paint thinner container. Follow the instructions on the paint thinner's label for specific information on soak times. Lift the metal out of the container and wipe off all excess finish with a clean rag. Then, wipe down the metal piece until it is completely dry.
Step 4
Use a sheet of 180-grit sandpaper to smooth out any rough sections of the metal's surface. Dip the metal piece in the sulfuric acid container. Let it soak according to the label's instructions.
Step 5
Remove the metal from the sulfuric acid and dry it off with a dry rag. Place the metal into the liquid copper container and let it soak. Be extra cautious around liquid copper, as it contains a cyanide additive. Consult the label for the proper protective equipment. In most cases, you can wear a dust mask, but you may have to wear a respirator depending on the manufacturer.
Step 6
Lift the metal out of the liquid copper and dip it into the nickel strike. Metal usually does not need to soak in the nickel strike solution for very long. Again, refer to the label instructions for soak times.
Step 7
Remove the metal from the nickel strike solution and wipe it down with a dry rag. Grasp the metal piece with some pliers, channel locks or some other gripping mechanism. Slowly drop the metal piece into the chromium solution. Let it soak according to the label's instructions.
Step 8
Use your gripping tool of choice to lift the metal out of the chrome solution container. Hang the metal piece for several hours until the chrome is completely dry.
Warning
Do not attempt to do with this project without the appropriate personal protective equipment.