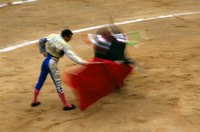 Bullfighting is a Spanish sport where a matador swings his red cape to try and defeat a raging, horned bull. The costume the matador wears during the fight is very ornate, including a red cape that is worn on the shoulders initially, then taken off to fight the bull. Because the costume is so visually appealing, it makes a good costume for parties or Halloween. The cape of the matador can be homemade, as only the most basic of sewing skills are needed.
Things You'll Need
1½ yards red fabric
Needle
Spread the red fabric out on a table. There should be two sides that are smooth and two sides that are raw, where the fabric has been cut.
Fold up one of the raw edges about ½ inch so that you can sew a hem. Sew the hem all the way across the length of the fabric so that it is straight and looks neat.
Turn the cloth so that the one remaining raw edge is right in front of you. Cut a piece of ribbon so it is the length of the raw edge plus 1 foot. This will serve as the tie to keep the matador cape on the shoulders.
Spread the cut ribbon out across the cape and fold the raw edge over (about 1 inch) to create another hem. Sew across the entire hem, being sure not to sew over the ribbon.
Drape the cape over the shoulders of the person who will be wearing it. Tie the two ends of the string together in front and the cape is complete.