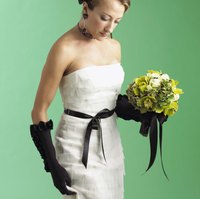 Trumpet-style gowns show off a woman's curves, accentuating them even if she doesn't have an hourglass figure. Therefore, it is easy to see why women are drawn to the style. The bodice of a trumpet gown is fitted to the knee or even the calf. After that point, the skirt spills out in a cascade of voluminous fabric. Tulle and lace are occasionally added to make the skirt look fuller. This gown style is very formal, making it suitable for weddings, proms and special occasions.
Things You'll Need
Pattern
Fabric
Lining fabric
Muslin
Fastenings
Tape measure
Scissors
Pins
Sewing machine
Needle
Thread
Netting
Select a pattern for a trumpet-style gown and purchase the material required by the design. The amount needed is found on the back of the pattern's envelope. Purchase enough material to make the dress and lining. Also purchase enough muslin fabric to make the outer dress. Purchase any required fastenings such as zippers, buttons and hooks, and eyes at this time.
Measure your bust, waist and hips. Record your findings. Cut out the pattern size that most closely corresponds with your measurements. Fold the muslin fabric in half lengthwise and pin the pattern pieces to it. Cut out the pieces. This muslin dress is known as the mock-up. Creating it will allow you to make the final trumpet-style gown without needing to adjust the dress at all.
Sew the muslin fabric together in accordance with the pattern's instructions. Sew using a wide stitch so that the stitches can be easily removed. Fit the muslin fabric to your body and mark the new seams with pins. Cut away the excess seam fabric and remove the stitches.
Fold the trumpet gown's fabric and lining in half lengthwise. Pin the muslin pattern pieces to them. Cut out the new dress pieces. Sew the bodice of the dress and then the lining, following the pattern's instructions.
Ease stitch the top of the trumpet skirt across the upper seam to gather it. Ease stitching is accomplished by sewing with the widest possible stitch on your sewing machine without knotting the beginning or ending stitches. Pull the top thread to gather the fabric until the width of the trumpet skirt is the same width as the hemline of the sheath portion of the dress. Pin the gathers in place and sew. With right sides together, sew the trumpet skirt to the bottom of the sheath dress. Repeat the process for the lining, using stiff netting instead of fabric. This will help the trumpet skirt stand out.
Sew the lining and outer layer of the dress together at the neckline, keeping right sides together. This will create a finished edge all the way around the neckline. Flip the lining to the inside of the gown and add any fastenings to the dress. Hem the outer and inner layers separate from one another.