Things You'll Need
7-foot-long piece of fabric, at least 36 inches wide

Matching thread

Sewing machine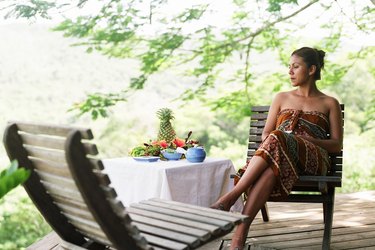 Design and craft a unique African wrap skirt to coordinate with your wardrobe. The African wrap skirt is sometimes referred to as a lapa, khanga or sarong. The garment is made from a basic rectangular piece of fabric and serves as the basic piece of clothing for African women. The skirt can be tied underneath your armpits as a dress, worn as a head scarf, used as an accessory over other clothing or turned into a baby carrier.
Step 1
Wash and dry the fabric in the same manner you intend to after completion of the project. This will ensure that all shrinking occurs before you make the skirt.
Step 2
Iron the fabric to remove any wrinkles, and then spread the fabric out flat on the floor or another level surface.
Step 3
Even any edges of the fabric that are not straight. Most of the time, the store attendant who cuts the fabric does not take the time to ensure that it is cut in a perfectly straight line. Trim the edge to remedy any curves, waves or other crooked edges along the cut ends.
Step 4
Miter the corners of the garment by cutting a diagonal line across each corner, half an inch from the point. This will provide a more tailored and professional look to the finished skirt.
Step 5
Fold under a quarter inch of fabric toward the wrong side on any edge of the fabric, and then fold under another quarter inch. This is a rolled hem.
Step 6
Stitch the hem in place and continue rolling the hem until all four sides of the garment are stitched in this manner.
Tip
For a double-sided sarong, use two pieces of fabric, wrong sides together, and encase the edges with coordinating bias tape.