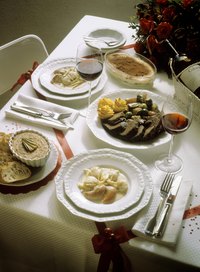 Venison backstrap is the most lean and tender cut of deer meat and can be compared to a pork tenderloin or filet mignon. You can prepare a backstrap in a variety of ways. A simple method that does not require much experience is to lightly season the meat and cook it in the oven. This method will allow you to taste the meat without the distraction of other ingredients, and you can cook it without having to constantly watch over it.
Things You'll Need
2 lbs. venison backstrap
Ground black pepper
Olive oil
Salt
Pastry brush
Sharp knife
Oven-proof skillet
Instant-read thermometer
Preheat the oven to 400 degrees Fahrenheit.
Season the entire cut of meat with salt and pepper.
Measure 2 tbsp. of olive oil into an oven-safe skillet. Heat the olive oil on the stove top over high heat.
Place the venison in the hot oil and sear each side of the meat for one to two minutes.
Take the skillet off the burner and place it in the preheated oven.
Bake the meat for about 20 minutes. At 125 degrees Fahrenheit, the meat will be cooked medium-rare. If you would like the meat to be cooked more, bake it for longer. Do not overcook the meat, however, as it will toughen.
Allow the meat to sit for about 10 minutes after coming out of the oven. Slice the meat into strips or as desired.