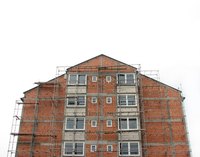 Differential settlement refers to the the unequal settling of a building's piers or foundation that can result in damage to the structure. The damage occurs when the foundation sinks in different areas at different times.
Causes
Differential settlement is primarily due to the condition of the soil upon which the structure sits. Soil has the capacity to expand or contract based upon the temperature or weather conditions. It can also shift or wash away due to poor drainage, heavy rainfall, soil drying unevenly, or changes in the water table.
Effects
The settlement causes cracks in a structure's foundation, slab or supporting piers. These cracks lead to cracks in the building's interior walls and uneven settling of the building's doors, windows and trim.
Prevention and Solution
The best way to prevent damage from differential settlement is to thoroughly analyze the soil and make necessary amendments before construction begins. It may be necessary to reinforce the structure's piers or foundations if a problem occurs after the building has been constructed.