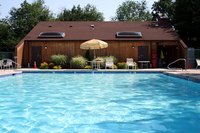 When significant problems are apparent with a swimming pool, including cracked concrete, a pool refinishing probably will be necessary. Also known as a pool resurface, this costly procedure usually occurs when a pool has been used for a significant length of time.
Average Price
The cost of a pool resurfacing runs $5,000 to $10,000 based on 2010 information, according to MSN Money. The cost of replacing plumbing or repairing plumbing problems may cost an additional $6,000 to $8,000.
Considerations
The amount of tile used in a swimming pool and its size are two key factors in determining the price of the pool refinish. Larger pools and those with more tile cost more because the jobs involve much more work and materials.
Alternatives
Do-it-yourself pool resurfacing kits are a cheaper alternatives to a professional resurfacing jobs. The price of the kits relate to the size of the pool. The kits include everything needed to refinish the pool.