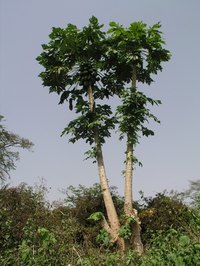 Native to the southeastern region of the United States, the pawpaw is a small, pyramid-shaped tree that bears a tropical fruit of the same name.
Habitat
Pawpaw trees grow best in direct sunlight with protection from winds, but must be shaded during the first two years of growth. They require mild to cold winters, warm to hot summers and at least 32 inches of rainfall per year.
Size
Pawpaws are small, rarely reaching over 25 feet tall. At around 6 feet, seedling pawpaws begin to bear fruit.
Fruit
The pawpaw fruit has a tropical taste with the texture of custard. On the outside, it resembles a short, round banana.
Pests
The pawpaw peduncle borer is a moth larva that causes flowers to wither by burrowing into the tissues of the flower. A second pest is the larvae of the zebra swallowtail butterfly. These larvae feed on the foliage of young pawpaw trees.
Purchasing
Pawpaw trees are available for purchase at nurseries as either seedlings or grafted trees.
Fun Fact
In "The Jungle Book," Baloo references the pawpaw tree in the famous song, "The Bare Necessities." In the song, he says, "Now when you pick a pawpaw or a prickly pear, and you prick a raw paw, next time beware."