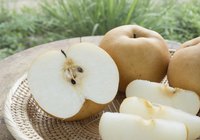 Apples and pears are closely related to begin with -- they're both members of the rose family, or pomes -- but the "apple pear," or Asian pear, blurs the line between the two fruits. Their flavor packs the unmistakeable honeyed sweetness of a pear, but Asian pears have the crisp texture, size and roundness of a superlative eating apple. To scientists they're unquestionably pears, but they're a distinctive and quirky branch of the family. You can use them in tarts, pies and other baked confections, but aficionados recommend eating them out of hand.
Distinctive Characteristics
Apple pears differ significantly from the familiar Eurasian varieties that fill your grocer's produce section. Ordinary pears don't ripen on the tree, but must be harvested while still hard and encouraged to ripen in storage. Asian pears, like apples, can be left on the tree and picked while ripe. Conventional pears have textures ranging from meltingly soft to grainy and sand-like, but always relatively dense. Apple pears have a distinctively crisp texture, apple-like but even lighter and juicier than most apples.
Pick a Good One
Asian pears are packaged carefully to minimize bruising, their major flaw from the retailer's perspective. Avoid fruit with visible bruising or other damage. Apple pears range from pale yellow to russet to green in color, but this is a question of cultivar rather than ripeness. Rather than color, use your nose to judge the ripest fruit. The best-tasting pears have the sweetest fragrance.