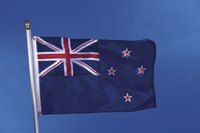 The kowhai tree originated in New Zealand and grows naturally only in a few places in South America, such as Chile, according to Plants for a Future. Scientists refer to the kowhai as Sophora tetraptera.
Foliage
The leaves of the kowhai tree have a distinctive round shape and average lengths of three to six inches, according to the Hebe Society. The kowhai is an evergreen tree, meaning it retains its leaves all year.
Flowers
The bright yellow flowers of the kowhai droop downward, resembling bananas in their shape. Kowhai flowers range grow as large as 2.2 inches in length,reports the Hebe Society.
Size
The kowhai tree reaches average heights of 15 to 39 feet, explains the Hebe Society.
Time Frame
Kowhai flowers bloom during the spring and summer months, which are September through February in the tree's native home of New Zealand.
Features
The kowhai tree contains a chemical known as cytosine, which is similar to nicotine and is toxic if ingested in large amounts, warns Plants for a Future.