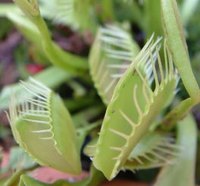 The Venus flytrap is famous for eating bugs and its unusual appearance. Native only to North and South Carolina in the United States, the Venus flytrap is an endangered species in the wild. Plants should be purchased from those that cultivate it, not harvested from the wild.
Features
The Venus flytrap has oval shaped, toothed traps. They are blood red inside and the plant has up to seven traps, but no more.
Diet
To gain an optimal lifespan, the plant must eat live food. Processed meat, such as hamburger, will rot the leaves, causing the traps to turn black and fall off.
Plant Environment
The plant should be kept in a warm and moist environment, but never submerged. The Venus flytrap can live submerged underwater for up to three months, but it is not recommended by professionals.
Propagation
The plant can have an unlimited number of 'babies.' As long as room permits, new plants will grow from the base or from dropped seeds.
Total Lifespan of the Plant
A well cared for or wild plant can live well over 25 years. Individual traps die off after eating four to five insects but re-grow.
Dormancy
The flytrap needs a dormant period every year. Place in a cool area, such as a protected or enclosed porch for the cold months.