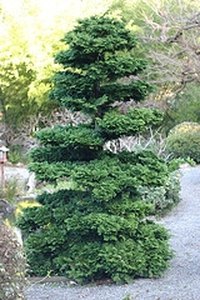 Evergreen trees are best known as the Christmas trees we decorate in our homes each December. Evergreens come by their name because they retain their foliage throughout the year, remaining green no matter the season. There are many types of evergreen trees, including the ones listed below.
Pine
There are over 100 different species of pine trees. Scotch pine is the most common Christmas tree because of its long-lasting aroma and the easy ability to hang ornaments on its stiff branches and needles.
Spruce
Spruce Trees are known for their height. The Norway spruce is the most popular tree in Europe. The Norway tree can grow from 130 to 215 feet high and has a conical shape and shiny, dark green needles.
Cypress
Cypress trees, one of the most popular evergreen trees in the United States, is known for its feathery branches. Because it grows 3 to 4 feet per year, the cypress tree is commonly used as a privacy hedge.
Eucalyptus
Eucalyptus trees are known for their strong aromatic scent---which can be a good repellent for insects and pests. The fast-growing trees produce an oily sap, often used in household products.
Fir
Fir trees consist of 18 different species, including the popular and aromatic Douglas fir and the blue needles of the white fir. Fir trees are softer than spruce trees and are known for their symmetrical shape.