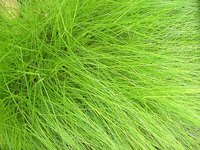 Ornamental grasses can be used to add color, height or even movement to a garden. The flowers and seed heads of ornamental grasses are an attractive bonus in the fall and winter. When choosing an ornamental grass, consider the climate, amount of water available and where the grass will be planted.
Cool Season Ornamental Grasses
A cool season ornamental grass will begin growing in early spring before the temperatures warm up. During the heat of summer or during drought, the plant will turn brown. Use cool season ornamental grasses in the northern part of the country. Autumn moor grass (Sesleria species), blue oat grass (Helictotrichon species), tufted hair grass (Deschampsia species) and fescue grass (Festuca species) are cool season ornamental grasses.
Warm Season Ornamental Grasses
A warm season ornamental grass waits until the weather is warm before it starts growing. It usually turns brown in the fall. The dead foliage needs to be trimmed in late winter or early spring. Some warm season grasses are northern sea oats (Chasmanthium latifolium), fountain grass (Pennisetum species) and switch grass (Panicum species).

Ornamental Grasses for Dry Sites
Prairie type ornamental grasses are suited for areas with little rainfall or irrigation. Little blue stem (Schizachyrium scoparium), needle grass (Stipa spartea), June grass (Koeleria macrantha) and Western wheatgrass (Agropyron smithii) are some ornamental grasses suitable for dry areas.
Ornamental Grasses for Moderately Moist Sites
Moderately moist sites are areas that receive a consistent amount of rainfall or irrigation. Some ornamental grasses for moderately moist sites are tufted hair grass, northern sea oats, switch grass, Miscanthus species and Calamagrostis species.

Clumping Ornamental Grasses
A clumping ornamental grass grows in a neat mound and slowly increases in size. These grasses are suited to flower beds and borders. Some clumping ornamental grasses are little bluestem grass, love grass (Eragrostis species), blue oat grass, tufted hair grass and Calmagrostis species.
Running Ornamental Grasses
Running ornamental grasses spread by rhizomes (runners) underground and should be used as mass plantings or groundcovers. Some types of running ornamental grasses can be aggressive or invasive under the correct growing conditions. Blue lyme grass (Leymus arenarius), strawberry and cream grass (Phalaris arundinacea) and cord grass (Spartina species) are some running ornamental grasses.