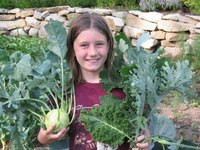 Don't be intimidated about gardening. There are several vegetable plants that are easy for beginners to grow in your garden or containers.
Considerations
Most of these garden vegetable plants can be planted directly in the garden, but some can get a head start on the season by transplanting starter plants.
Significance
When you grow your own garden vegetables you will feel satisfied as you enjoy the fruits of your labors.
Types
Carrots grow quickly and easily and can be planted in the early spring
Potatoes Buy seed potatoes at your garden center and plant them in raised mounds, or in containers.
Beans Pole beans will require a trellis to support their growth, or you could plant bush beans.
Cherry Tomatoes Purchase starter tomato plants at the garden center and plant them in the garden after the frost danger is over.
Lettuce You can plant lettuce in the ground early and start harvesting it in just a few weeks. Keep planting through the spring and you'll have an endless supply of salad greens.
Swiss Chard, kale and other leafy greens These hardy plants don't need to be fussed over, but you will need to keep the weeds away and occasionally thin the plants if they get too crowded.
Pumpkins Once you plant them, pumpkins don't need much attention. They will need lots of water and space for the trailing plants to grow.
Space
Even if you only have a small amount of garden space, you can plant a few crops in the ground and some plants in containers on your deck, porch or even along the side of your driveway.
Benefits
By choosing plants that are not fussy and don't require special soil considerations or maintenance your gardening tasks will be much easier.