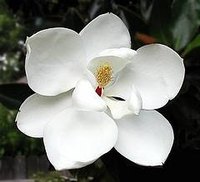 Magnolia trees are evergreens which are known for their large, showy flowers and glossy leaves. They grow from 20 to 40 feet tall, with flowers that can be up to 10 inches across. Magnolias require well-draining soils, as over-watering is a much greater danger to them than under-watering.
Considerations
The general guideline for watering magnolia trees is 1 inch of water per week. Check the soil to make sure that it is moist 2 to 3 inches deep.
Prevention/Solution
Be careful not to plant magnolia trees too deep in clay soils. This can cause its roots to drown and will eventually kill the entire tree.
Warning
Magnolia trees can take as long as three years to bloom after planting. Be sure to fertilize each spring and fall, and your patience will be rewarded.
Fun Fact
The magnolia tree can claim the honor of being both the state tree and the state flower of Mississippi.
History
The magnolia tree was named for the French botanist Pierre Magnol. Ancestors of the magnolia have been found over 95 million years ago. It evolved to be pollinated by beetles, as bees had not yet appeared.
Geography
The Magnolia tree has over 200 species and is found in North America, Central America, South America and Asia.