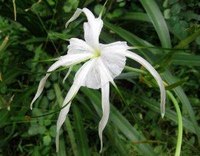 The Spider Lily plant is popular for its white, pink or red flowers that bloom both in the spring and fall above the large clumping foliage. The flower stems are about 6 inches long with about 6 to 12 flowers on each. Each bloom has curving sepals, giving it a "spider" look.
Scientific Name
The Spider Lily's scientific name is Hymenocallis Latifolia and is pronounced "hye-men-oh-KAL-liss lat-tif-FOLE-ee-uh." It is part of the Amaryllidaceae family.
USDA Hardiness Zones
The Spider Lily plant is native to south Florida and can be planted all year long in U.S. Department of Agriculture hardiness zones 10 to 11.
Plant Type
The Spider Lily is actually a herbaceous perennial, but since it grows in the warmer climates, the growth will not die each season. The Spider Lily starts as a bulb.
Growth
A Spider Lily is a fast-growing plant and can reach between 1 and 3 feet tall and have a spread of 3 to 5 feet. Each blade can grow between 18 to 36 inches.
Caring For
Plant in partly shady or in the full sun and in well-draining sandy soil. It should be watered often, but it can withstand drought and salt spray from the ocean. It does not tolerate cold temperatures at all.