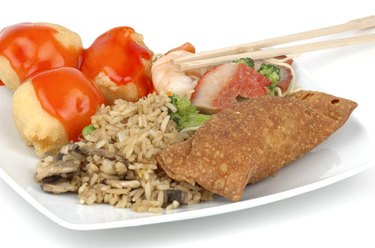 Suggested Servings
Because the Chinese don't typically center meals around meat, it makes the difference between more or less calories, according to WomenandWeight.com. For example, a serving size (or one plate) of stir-fried shrimp with garlic, yellow chives and snow peas is 380 calories, while the same size serving of steamed mixed vegetables is only 200 calories. Determining how much to order can make a difference, considering the eating habits of guests.
Cost Factors
WiseBread.com states, "Even if you are working hard to keep your discretionary spending to a minimum, you can still enjoy a restaurant meal once in awhile." Keeping in mind the price of the chinese food will determine how much to order when you're on a budget.
Bottom Line
If you have the money to order twelve main dishes and different sides do so, if it's not possible cut that in half and order six main dishes and sides and hand out smaller servings. If anyone's keeping track of their calories, they can stick to sides like steamed vegetables. Consider your budget and who you're feeding; then decide what's best.