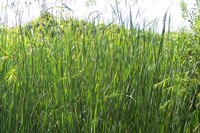 Vetiver grass is a type of perennial grass with far reaching roots and tall densely tufted grass blades. It has many uses, but it is primarily known for its effectiveness in preventing soil and moisture loss, particularly in agricultural settings. Vetiver grass, used for erosion control worldwide, is most often planted in hedgerows to provide optimum slope protection. As a native plant of India, vetiver grass is best adapted to the tropics and subtropics.
Roots
The word "vetiver" means "roots that must be dug up." It is the combination of the deep roots below ground, along with the stiff blades of grass above ground, that provides such efficient soil and moisture conservation. The roots, which can reach depths of over 8 feet, keep soil from traveling and migrating, especially on hillsides. The rows of thickly bunched grass grow up to 8 feet tall and help to keep the above-ground water in place while working to prevent runoff.
Planting
Vetiver can be planted 3 to 6 inches apart by hand or by machine. The grass plantlets should be started in full sun, and if planting is not scheduled during the rainy season, the young plants will need to be watered until the root system is established. According to the United States Department of Agriculture's Natural Resources Conservation Service (USDA-NRCS), farmers in Hawaii who grow crops over a range of elevations use vetiver grass for erosion control from sea level to about 4,000 feet above sea level.

Features
Vetiver grass can grow in many types of soil, from porous sand to dense clay. The roots grow down from aromatic rhizomes, which are short and do not runner out. The USDA-NRCS notes that vetiver grass roots contain an essential oil that has been known in India since ancient times and considered a high-class perfume. Vetiver oil is contained in 90% of all western perfumes and its greatest use is in modern perfume creations. Vetiver oil is one of the ingredients in the French perfume, Chanel No. 5.

Benefits
This grass is also used for road and stream bank stabilization. Additionally, the USDA-NRCS says that vetiver grass has been shown to enhance the degradation of heavy metals such as aluminum, cadmium, chromium, copper, lead, and nickel and polycyclic aromatic hydrocarbons in the soil. It is used for wastewater treatment and rehabilitation of old mines. According to recent information from the Vetiver Network International, a vetiver system could play a role in stabilizing proposed artificial islands in the Gulf of Mexico.

Potential
Though vetiver, as described by the National Academies Press, is a practical and inexpensive way to control erosion on a huge scale in humid and semi-arid regions of the world, it could be used on a smaller scale as well. If you live in the United States and are considering using this plant in your landscape, the USDA says that vetiver grass is adapted to the USDA Plant Hardiness Zones 9 to 11. However, vetiver grass is listed in the Global Compendium of Weeds. Vetiver grass genotypes that produce viable seed exist in certain areas and countries, such as the Caribbean and Australia, and are considered invasive weeds. If you order the vetiver plant, make sure it is a sterile strain, and not a fertile one.