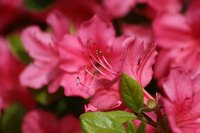 Girard's Christina Marie azalea is known as an "evergreen" azalea with large rose and pink blooms. It is called "evergreen" because it remains green throughout the year. This azalea enjoys well-drained soil that also is "slightly acidic," according to Kaw Valley Greenhouses. This azalea also enjoys partial shade. At its full maturity, it can reach 4 feet tall and 4 feet wide.
Planting
Plant the Christina azalea in moist yet well-drained soil. This flowering shrub will die in standing water, according to Sun Valley Garden Center. "It is very fussy about its soil conditions and must have rich, acidic soils to ensure success, and is subject to chlorosis (yellowing) of the leaves in alkaline soils," according to the center's website.
Winter
During the winter, the Christina azalea is susceptible to frigid temperatures. It will not lose its leaves because it is an evergreen shrub, but its leaves will turn slightly bronze. It also needs a little extra nurturing. Apply a thick layer of mulch around the root area during the winter season to help protect the roots from the cold.
Spring
By mid-spring, the Christina azalea's blooms will burst forth in hues of pink and red.
Summer
The flower buds on the Christina azalea develop during the summer in preparation for the following spring's bloom. Prune the shrub after it has flowered in the spring to ensure the growth and bloom cycle is optimal.
Fall
During the fall, the shrub does not lose its leaves or color.