Creeping phlox, scientifically known as Phlox subulata, is a groundcover that is a perennial spring bloomer with leaves that have slightly swollen bases similar to some Junipers awl foliage. With a slow-growing, creeping habit this evergreen is a good choice for a rock garden, edging plant or for cascading over a wall.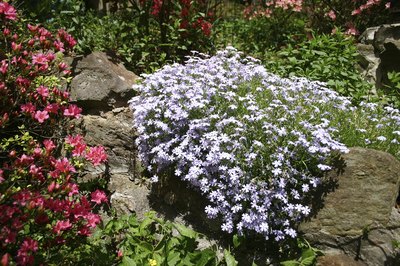 Size
Used almost exclusively as a groundcover, creeping phlox ranges in height from around 4 inches to as much as 8 inches. Some species have mounding habits with a total spread per mound of around 2 feet wide.
Culture
Creeping phlox grows easily, especially if the soil is well-drained and the area is sunny, as too much shade will produce leggy plants that tend to be sparse, and they are likely to rot if the moisture is excessive. Propagation is done by dividing the plants during fall or from stem cuttings during the summertime. New foliage, often lush, is produced if creeping phlox is sheared by as much as half after its yearly flowering. Hardy to USDA zone 3, creeping phlox can be grown in most of the country.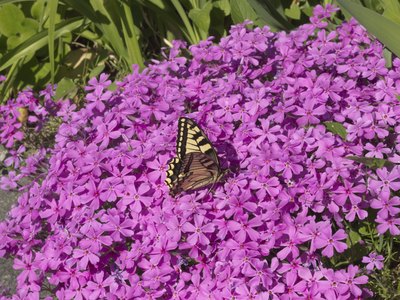 Benefits
With bright, spring flowers in a variety of colors that include blue, pink, white and scarlet-pink and lasting for weeks, creeping phlox is cold-hardy evergreen groundcover that requires little care. Not picky about soil conditions, creeping phlox--with its fine textured and needle-like foliage--makes a good background plant during summer.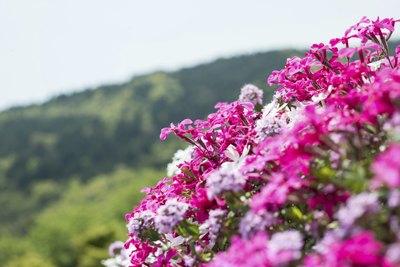 Features
Phlox often have blooms that cluster loosely and range from as few as four to as many as 10 blossoms. These blossoms, some of which have a slight scent to them, come in different shapes--narrow, star like, notched or round, depending on the variety. Native to the woodlands of the eastern part of the U.S., creeping phlox spreads naturally by being self-seeding as well as sending down roots wherever the stem nodes happen to be on the ground.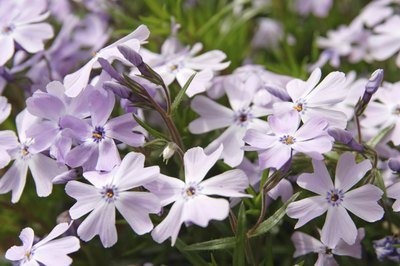 Considerations
While creeping phlox requires little care, spider mites can become a pest problem that can reduce the plant's life span and cause stems and foliage to die in patches. Unless the plants are sheared annually, they will likely lose their vigor. During the more extreme seasons such as summer and winter, the foliage might have dying yellow or dead brown foliage mixed in among the green.