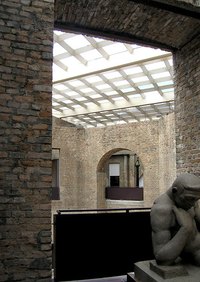 Choosing an exterior design for a home can prove difficult. The material used to cover a house should be a long-term investment, so choosing wisely is important and requires research. Two siding options many home owners consider are brick and concrete, both of which have benefits and drawbacks.
Types
There are many options when it comes to materials made of brick or concrete. Concrete can be made in styles such as stucco, mortarless masonry and stone veneer. Stucco is a cement-based mixture that is applied in several coats over a lathe base, while mortarless masonry is a series of stones that fit together without the use of mortar. Stone veneer involves pouring cement along with pigments and natural aggregates into a siding material. Brick options include the whitewashed form, painted and classic tudor style.
Maintenance
A huge positive for brick is that it requires nearly no maintenance and is very durable, typically lasting as long as the house. Besides occasionally washing, brick can largely be left alone. It is not at risk of rot or denting, is not susceptible to termites and never needs painting. Concrete offers all these advantages as well and is actually easier to repair if something does go wrong. Both materials are vulnerable when exposed to excessive moisture.
Installation
Because of the physical nature of concrete, remember to take care of all plumbing or electrical line requirements before completing the installation. Concrete should never be cut into. Both materials come in veneer form, which offers simpler, faster installation at a lower price. Check with local contractors to get an estimate on price for each material. Because there are so many varieties of each type, the price range is wide.
Cost
Typically, brick costs more to install that most other siding options, but it can increase the value a house up to 6 percent, according to homeimprovementhelper.com. Depending on the type and size of brick used, it could easily cost $10,000 for a 2,500-square-foot house for materials alone. (http://www.housingzone.com/index.asp?layout=estimator&estimator=bricksiding) For concrete installations, materials can cost as little as half of that amount, again depending on the type of concrete used. Material like fiber cement concrete is the most cost-effective choice.
Other Considerations
Both siding options are extremely energy efficient, providing excellent insulation for a home and lower monthly energy costs all year. Another plus is that this heavy insulation does a great job of keeping the home quiet. Brick has the added benefit of being very easy to install over other siding types, while concrete has a great reputation for sustaining disasters like fires and storms.