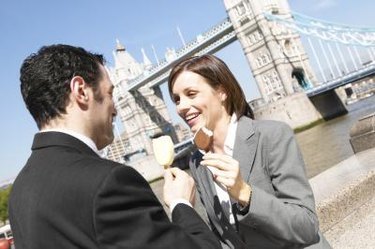 "The English contribution to world cuisine--the chip," said John Cleese, an Englishman and one of the original members of "Monty Python's Flying Circus." Many people around the world poke fun at the foods English people eat. Traditional English meals have quickly given way to simpler meals that can be cooked in a snap or grabbed on the run. However, as reported in a 2005 issue of "The Guardian," the favorite food of most English school children today is a dish of curry, hardly a traditional English food.
Breakfast
The traditional English breakfast consists of sunny-side-up eggs, fried bread, sausages, mushrooms, bacon, tomatoes and baked beans. It's known in England as the "fry-up" or "Full English." The Full English is still widely available in hotels and bed-and-breakfasts across England, but isn't served too often at home before work or school. Most English people today prefer a breakfast of hot or cold cereal, toast with marmalade or preserves, juice, and a warm beverage of either tea of coffee. Popular cereals in England are Weetabix, Jordans Meusli and Kellogg's Cornflakes.
Lunch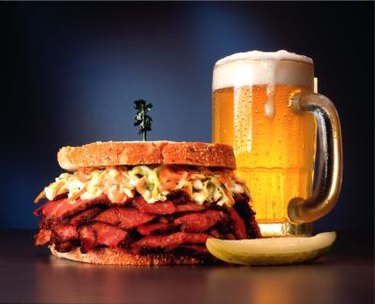 The typical English lunch is normally eaten between 12:00 and 1:30 p.m., and consists of a sandwich, such as sausage and onion, ham and pickle, or shrimp or tuna and mayonnaise. Along with the sandwich, an English person might have a packet of crisps (potato chips), fruit or biscuits. A pint of beer might also be added to lunch if the person eats in one of the many pubs scattered across England. Otherwise, tea, coffee or a carbonated beverage is the drink of choice. The ever-popular takeaway fish and chips, often wrapped in a cone of paper, is still a favorite among English diners, as is bangers and mash (sausages and mashed potatoes).
Afternoon Tea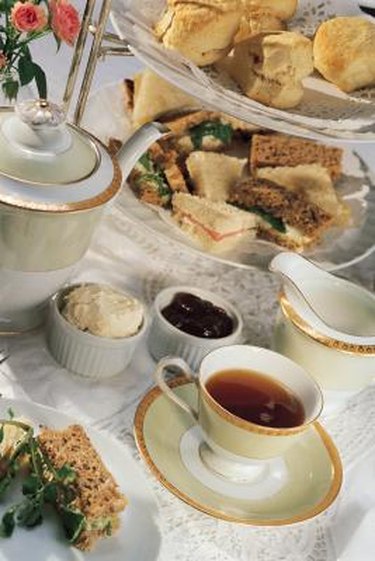 The afternoon tea is simply a time to snack on a packet of crisps or a few biscuits, and swallow a quick cup of tea or coffee. Tea is also an old-fashioned term for dinner; some English people still use it interchangeably to indicate the last main meal of the day. Now usually reserved for special occasions, high tea is an elaborate affair that includes sandwiches--without the crusts--of cucumber, watercress or smoked salmon. In addition to that, tiny cakes, scones and pastries are served along with well-steeped Earl Grey, jasmine or Darjeeling tea. Tourists can still take advantage of high tea served at English hotels and restaurants.
Tea or Dinner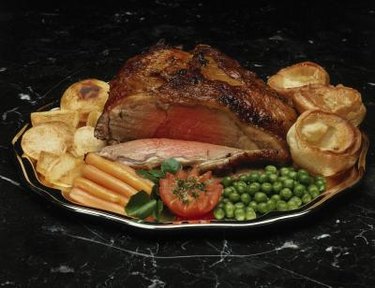 Different foods and cuisines from all over the world have been introduced and quickly assimilated into the English diet. Take-aways (take-out meals) of curries, tandoori and Chinese food rank high on the list of the foods popular in England. But, the "meat and two veg" is most common in England among home-cooked meals during the week. A typical English evening meal might include roasted meat, a brown gravy made from the juices from the roasting meat, and carrots, peas, cabbage and, most often, potatoes. On Sundays, a larger, more formal meal of a roast, perhaps a Yorkshire or black pudding, roasted potatoes and side vegetables is most common among the English.
Sweets, Snacks and Desserts
After eating the evening meal, an English person might ask, "What's for afters?" or "What's for pudding?" Puddings have long been a favorite ending to a good, English meal. Spotted Dick (a steamed pudding of suet containing dried currants or sultanas), treacle pudding (a steamed pudding with treacle syrup poured over top), or trifle (sponge cake interspersed with custard, fruit and whipped cream) are all popular, traditional English desserts.