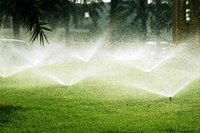 The use of water sprinklers has revolutionized the watering of lawns and the irrigation of fields. Widespread domestic use of sprinklers began in the mid-20th century, and the sprinkler continues to help business and homeowners keep grass watered, especially during times of drought.
Early History
The origin of the domestic lawn sprinkler is, like other "first" inventions of the 19th century, shrouded in controversy. Some sources claim that a J. Lessler of Buffalo, New York was the first to be awarded the patent in 1891, while others state that inventor J.H. Smith completed the first rotary lawn sprinkler in 1897, making a spinning head that sent water from two exits.
Sprinklers in the 20th Century
But it was not until 1932, when California fruit farmer Orton Englehardt invented the first prototype of the impact sprinkler, that the sprinkler took off and became available to the general public, according to the Rain Bird Corporation's website. While Englehardt claimed the patent for the sprinkler, he was mostly interested in farming, so he sold the rights to his neighbors Clem and Mary La Fetra, who then started Rain Bird and began large-scale production to sell sprinklers to the public.
Significance
There are several reasons water sprinklers quickly changed the way crops were tended to and helped to revolutionize irrigation practices on farms and industrial sites. Fields could now be watered automatically and underground irrigation systems could be installed in large field. These systems replaced the older method of furrow irrigation, in which trenches were dug between rows of crops. As Americans moved from the cities to the suburbs in the 1940s and 1950s, the lawn sprinkler played an important role in keeping house grass irrigated. Lawns could be watered without having a person hold a hose and timing systems allowed sprinklers to go off at certain hours.
Function
Lawn sprinklers operate by pivoting on the top of a threaded nut, and impact sprinklers feature an arm that intermittently turns into the flow of the stream of water. Another type of sprinkler features a larger head that has water shooting out from underneath it. The sprinklers are made of either metal or plastic and can be set to rotate to a particular span. Some sprinklers feature a second nozzle head, which waters the area close to the sprinkler, whereas the primary nozzle waters farther distances.
Fun Fact
While lawn sprinklers can be impact, oscillating or underground, another common type of irrigation found in large fields is the rain gun, which is either stationary or rotates at the base. Rain guns usually operate with high pressure and can spray longer distances than other sprinklers.