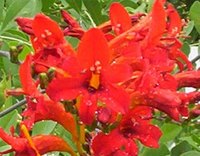 Fire King Crocosmia is one of the many crocosmia species available to gardeners. These bulbs are usually planted in the spring for summer and fall blooms. They are easy to grow. Gardeners love this species for the brilliant red blooms and ease of care. Hardy to USDA Zone 5a, this plant will grow in most areas of the United States.
What Fire King Crocosmia Looks Like
Fire King Crocosmia stands 24 inches tall. The dark green foliage is sword shaped and appears before the flower stalks. The flowers of Fire King Crocosmia are a brilliant fire red, hence the name. Flowers are tubular and start out orange. They mature into a brilliant red. Once the plant is in full bloom, the stalks tend to arch over slightly. Some plants may require support from a frame or stake.
Type of Plant
Fire King Crocosmia is a perennial grown from bulbs. The bulb stores food for the plant until it starts to send up leaves and roots. Every year a new bulblet will be formed from the original bulb. Both should stay viable over winter with proper care. The scientific name for Fire King Crocosmia is Crocosmia crocosmiiflora.
Care
Plant Fire King Crocosmia bulbs in the spring. The pointy part of the bulb should face up. Add one teaspoon of bone meal to the planting hole. There is no need to water. Cut spent blooms before they form seed heads. This will allow the plant to store important nutrients in the bulbs in order to over winter. In the fall, cut back the foliage after it turns yellow. Lift the entire bulb out of the ground prior to winter if you live in a zone other than 5a to 9b. Pack in straw or sawdust and store in a dark dry place where temperatures are around 50 degrees Fahrenheit.
Hardiness
Fire King Crocosmia is hardy from USDA Hardiness Zones 5a to 9b. This range covers most of the continental United States. However, if the bulbs are lifted and stored out of the ground for the winter, then you can grow them pretty much anywhere. South of zone 9b, plant in the fall for spring bloom. A link to the USDA hardiness zone map can be found in the resources section.
How to Buy Fire King Crocosmia
Some local garden shops may carry Fire King Crocosmia in the early spring. If you are unable to locate them locally, there are many reputable online sources. Breck's and Wayside Gardens have great reviews. You can request a catalog from them online. See the resources section for links.