This isn't just any special occasion breakfast, it's the special occasion breakfast in my house. And, as it turns out, it's much easier than it seems. The crab salad comes together in a minute, the sauce can be made in a blender or food processor and the poached eggs take less than ten minutes to make. Sure, there are a few steps involved, but it's well worth it for the end result that tastes like it took hours.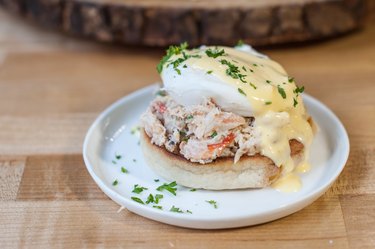 Things You'll Need
4 English muffins, toasted

8 large eggs

1/2 lb lump crab meat (picked over to remove shells)

1 teaspoon Old Bay seasoning (or seafood seasoning)

2 tablespoons sour cream

1 tablespoon chopped green onions

2 large yolks

2 tablespoons fresh lemon juice (about 1/2 of 1 large lemon, juiced)

1/2 teaspoon salt

Pinch cayenne pepper

4 tablespoons very hot butter

Splash white vinegar

Chopped parsley for garnish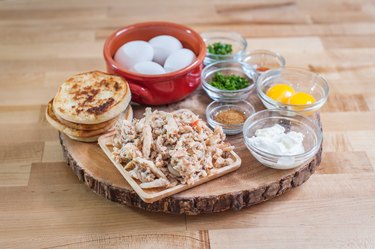 Step 1: Make the Crab Salad
In a medium sized bowl, stir together the crab, Old Bay, sour cream and green onions.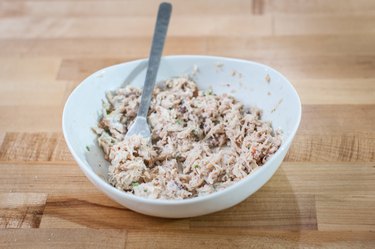 Step 2: Make the Hollandaise Sauce
Add the egg yolks, lemon juice, salt, and cayenne to the blender or food processor. While the machine is running, slowly add the very hot butter until well combined and thickened. To thicken sauce further, add to a saucepan over low heat and stir until thickened. Take care not to overcook, as sauce cooks quickly.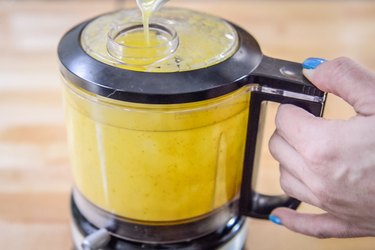 Step 3: Prep the Eggs
Add the eggs to small dishes. Add about 4 inches of water to a pot with a splash of vinegar, and bring to a low simmer.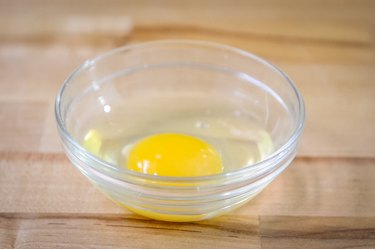 Step 4: Poach the Eggs
Gently drop the eggs into the water. Cook for 3 minutes or until the whites have set but the yolks are still runny. Remove with a slotted spoon and allow to drain on a paper towel.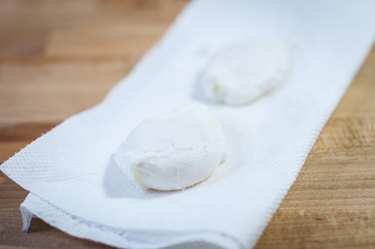 Step 5: Assemble
Add one half of a toasted English muffin to a plate, top with crab salad, then a poached egg. Drizzle with sauce and sprinkle with parsley.
Step 6: Serve
Serve immediately, one to two per person.