​eHow may earn compensation through affiliate links in this article.​
Are you craving gooey pull-apart bread, covered in cinnamon sugar and caramel? I thought so. This baked favorite can now be made without the use of the oven, making it an accessible recipe wherever you have an electrical plug. Say hello to Instant Pot monkey bread! This version is made in under 45 minutes, beginning to end. Grab the detailed instructions below.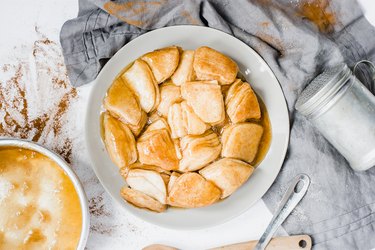 Things You'll Need
6-quart or 8-quart Instant Pot

1 can refrigerated large biscuits

1 cup sugar

2 teaspoons ground cinnamon

1 stick unsalted butter

1/2 cup brown sugar
Step 1: Cut Biscuits and Make Sugar Cinnamon Mixture
Open biscuits and cut into quarter-sized pieces.
Mix together sugar and cinnamon in a gallon plastic bag and seal. Shake to mix together cinnamon and sugar. Add in biscuit pieces and shake until well coated. Pour sugared biscuits in a greased 6-inch round cake tin.
Step 2: Make Caramel
In a microwave-safe bowl, melt butter and brown sugar together in microwave for 1 minute.
Mix continuously with a whisk until golden caramel color, about 2 minutes. Pour caramel mixture over sugared biscuits until well coated. Cover loosely with foil.
Step 3: Cook Monkey Bread in Instant Pot
Pour 1 cup water in Instant Pot bowl. Place trivet in the bowl, and place the pan on top of the trivet. Lock lid, flip valve to "Sealing", and cook on manual high pressure for 25 minutes. Let it natural release for 5 minutes, then flip the valve to "Venting" to release remaining pressure. Open and remove from bowl.
Tip
Making monkey bread in the Instant Pot will make it more moist and gooey compared to baking in a traditional oven. If some crispiness is desired, broil the monkey bread in the oven for 2-3 minutes.
Step 4: Serve and Enjoy!
Let monkey bread set and cool for 5-10 minutes. Flip on a plate and serve while warm. Enjoy!