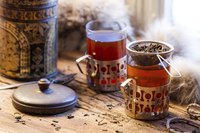 Whether it's white, green or black tea, it all comes from the same plant -- Camellia sinensis. The differences are in how and when the leaves are cultivated, which may also affect health benefits. White tea is the least processed and uses the young leaves of the plant, green tea is made from more mature leaves that have not been oxidized and black tea is made from mature leaves that are fully oxidized.
Rich in Phytochemicals
All three types of teas are rich in flavanols, which are also referred to as catechins, but in varying amounts and different types. Flavanols are phytochemicals, which are found in plant foods, help your body fight against disease. Green and white tea contain mostly epicatechin, epigallocatechin, epicatechin gallate and epigallocatechin gallate, while black tea is rich in theaflavins and thearubigins. This difference in phytochemical content governs the tea's health effects and may be responsible for differences in health benefits among different types of teas.
For Weight Loss
The catechins in white tea and green tea, as well as the caffeine content, may aid in weight loss, according to a 2013 study published in the American Journal of Clinical Nutrition. Drinking green or white tea increases energy expenditure and fat oxidation, and it is theorized that the catechins and caffeine may be responsible.
Less is known about whether black tea has the same benefits, but a 2014 study published in the Journal of Nutrition found that black tea does help promote weight loss in rats. More research may be necessary to see how it affects weight in humans, however.
For reference, one 8-ounce cup of white or green tea contains about 9 to 50 milligrams of caffeine, while the same serving of black tea contains 42 to 72 milligrams. The amount of caffeine in your cup of tea may vary depending on brewing time, water and type and amount of tea used.
Good for Your Heart
Both green and black tea are good for heart health. The Linus Pauling Institute reports that drinking at least 3 cups of black tea a day may reduce your risk of having a heart attack, and drinking 5 or more cups of green tea may decrease your risk of cardiovascular disease.
Black tea may also help improve heart health by lowering blood pressure. A 2015 study published in Nutrients found that drinking a cup of black tea after fasting or a high-fat meal helped lower blood pressure. The researchers theorize that the flavanols in the black tea offer vascular protection.
Anti-cancer Nutrients
Although the evidence is conflicting, according to the institute, the phytochemicals in tea may also offer some protection against cancer. A 2015 study published in Food Chemistry found that white tea may help the body fight off cancer cells and protect healthy cells from damage. Green tea may also offer some protection against esophageal cancer, according to a 2013 study published in Nutrition and Cancer, but black tea does not. More research on the relationship between tea and cancer needs to be conducted before claims and recommendations can be made.