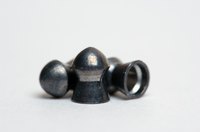 Lead should never be permitted to enter the water system. Whether a potable water supply or drain line, lead is a poisonous mineral to all types of life. Allowing lead to enter drainage water will carry it to holding ponds, water treatment plants and eventual discharge into rivers and lakes. Alternatives to lead seals in cast iron drainpipes are a mandatory specification for building, upgrading and replacing any lines. Although some materials may not have the life span of a lead seal, the long-term benefits of eliminating lead for water far outweigh any disadvantages.
Safety
Any work around lead should be done with strict safety precautions. Workers should wear breathing masks, safety glasses and protective clothing. Lead dust carried as an airborne contaminant can settle in the lungs. Lead particles can leach into the skin and eyes.
Caulking
Existing cast iron pipe can have the lead sealant removed and replaced with more modern caulking materials: silicone, urethane and neoprene will all provide a tight seal and resistance to environmental conditions. Also, these caulks are chemically nonreactive and will not corrode the iron over time.
Flanging
The best alternative to sealing cast iron drainpipes is sturdy weight-resistant flanges. Since drain lines carry little or no pressure, earlier manufacturers and utilities assumed just a male/female fitting of two pipe ends with some lead solder as a seal would be adequate. Although able to handle the media in the pipe, the lead would eventually find it's way into the water and be eliminated.
Flange fittings can add cost to the pipe but will eliminate the need for sealants and caulking. A series of bolts with a non-reactive gasket sealing the fitting will last many years without fear of leaks or failure.
PVC sewer pipe
More municipalities are using large PVC pipe for drain line improvements and replacing the cast iron lines. Much lighter than cast iron and with similar strength, the PVC pipe section fit with a male/female fitting and a large non-reactive o-ring in the female fitting to insure a tight seal. The advantage of the PVC pipe is it requires no welding to assemble, just a heavy sledge to knock the male fitting tight into the o-ring.
The disadvantage to PVC pipe is cost. Cast iron, although heavy and substantial, is made in such quantity with readily available raw materials the cost per foot is relatively low. Comparable plastic PVC pipe able to carry the same media volume and weight is substantially more expensive.