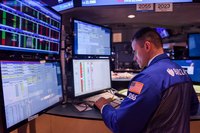 The two main ways to make money on the stock market are to sell stocks for more than their purchase price and to collect dividends. Royalty trust stocks are issued by special corporations that hold the rights to income-producing properties, such as oil wells, gas deposits and iron mines. These stocks pay high dividends, can appreciate in value and offer tax advantages. They also carry risk, because the dividends are not guaranteed.
Royalty Trust Structure
Royalty trusts are corporations that pass almost all monies -- at least 90 percent -- from their income-producing properties through to shareholders. These corporations have no employees or other assets. The trusts avoid double-taxation because only the shareholders, not the trust, must pay tax on the income. Royalty trusts own a fixed number of income-producing properties and can't buy additional properties. The trusts are usually set up to liquidate after 10 to 20 years.
Making Money
Dividend yield is a stock's annual dividend payments divided by its price. Royalty trusts offer high dividend yields, frequently greater than 9 percent. In April 2014, several trusts offered current annualized yields in excess of 20 percent. The principal way to make money on royalty trusts is to collect the yield. If an income property in the trust finds unanticipated additional resources, the yield and the price of the trust can increase and provide a capital gain if you choose to sell your shares.
Tax Advantages
In the United States, royalty trusts offer additional tax advantages beyond the avoidance of double-taxation. The Internal Revenue Service taxes your trust dividends at the long-term capital gains rate, which ranges from zero to 20 percent, depending on your income. You also can lower your taxes by taking a depletion allowance on that portion of the dividend that represents a return of capital. Depletion allowances partially compensate you for the loss of productive capacity as a property uses up its resources. Canadian royalty trusts are regular corporations that must pay the nation's corporate tax rate.
Royalty Trust Risks
If a property depletes all of its resources, it no longer produces income and shareholders will receive smaller dividend payments from the owning royalty trust. This can drive down the trust's stock price and create a loss. For example, in August of 2012, Hugoton Royalty Trust cut its dividend and its shares dropped 8 percent in one day. You can reduce risk by first finding out the total amount of money that a trust expects to distribute in its lifetime. Trusts must disclose this information. If the current share price implies a total market value in excess of the anticipated dividends, the yield will suffer and the shares could lose value. You reduce these particular risks if you shun trusts with a market value greater than their likely payback, keeping in mind that future payments are never guaranteed.