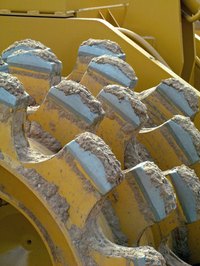 Operating heavy equipment costs a lot of money. Failing to make repairs to that equipment due to a poor equipment maintenance policy is simply not good business. Running through a maintenance checklist can take as little as 15 minutes a day and may easily catch a problem before it becomes several days' lost work due to equipment repairs. Poorly maintained heavy equipment may also pose a safety hazard to your employees.
Daily Maintenance
Set a schedule for equipment maintenance and stick to it. There are certain tasks to perform daily, while other tasks need completing on a longer schedule. Once you decide on a schedule, prepare a maintenance checklist.
Walk around each piece of heavy equipment in operation daily. While you perform a visual inspection, look for worn parts and signs of oil or coolant leakage. Make sure to inflate tires to the required pressure. Take time to clean debris away from the machine. Feel belts and chains to make sure there isn't too much slack in them. Lubricate linkages that call for daily grease. Make sure safety signage and safety equipment is in place. Check the fluid levels on oils, coolant and hydraulics. Top them up as needed. Failure to keep the proper amounts of fluids in your heavy equipment can shorten its life. Check the air filter and clean it if necessary.
Quarterly Maintenance
When your piece of heavy equipment has 500 service hours or about 3 month's service, you should perform a more thorough maintenance check. Change the engine's oil and both the engine oil filter and hydraulic oil filter. Replace the diesel fuel filter also as part of the 3-month equipment maintenance procedure.
End of Season Maintenance
At the end of the season or at least once a year, change the transmission fluid as well as the hydraulic oil. Check the antifreeze in your radiator to make sure it's in good condition for the winter weather. Check hoses and belts.
Drain summer-weight fuel from the tank and fill with arctic or blended fuel so the fuel line doesn't gel if you do start it in cold weather.
Wash the entire vehicle. Pay special attention to cleaning the engine and the undercarriage. Clean the cab and its air filters. Make sure the air conditioning unit is clean. Make sure all lights are operational and replace defective bulbs.
Inspect the tires for signs of wear and tear. Replace worn tires during the off season so you don't lose valuable work time.