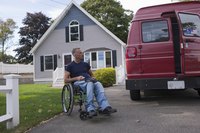 Adapting a vehicle to accommodate wheelchairs can range from a ramp for chair-bound passengers to hand controls and other fittings for drivers. While wheelchairs are commonly donated, wheelchair vans have no dedicated organization to assist donations. Persistence, networking and creativity may be needed to secure or adapt a van that can accommodate you and your chair.
Dedicated Nonprofits
Van donations don't happen every day, so part of your search may require spreading your message with groups that attract donations. There are many 501(c)(3) charities across the country that specialize in wheelchair and mobility support, and while these organizations don't focus on vans, they may provide a networking center in your search for a donor. When a particular condition contributes to the need for an accessible van, charitable organizations dedicated to that condition, for example, the Muscular Dystrophy Association, may also be a support source.
Community Outreach
Service groups, churches, community outreach and volunteer organizations may be willing to hold fundraising efforts, if approached, or make contributions toward wheelchair-accessible vans for those in need in the community. Again, the networking value gained from contact with these organizations may lead to unexpected connections. Organizations such as the Lions Club and Rotary International commit to community improvement without limiting scope to one cause.
Crowdfunding
New inventors, movie makers and artists aren't the only people raising money on the Internet. Sites such as GoGetFunding and Wishadoo accept personal needs fundraisers, and at the time of publication, both sites hosted campaigns for disability van repairs and replacements. Not all crowdfunding sites are created with charitable support in mind, however, so research and targeting is needed for the best response. A recent trend in crowdfunding is localization, or funding based on a city or local area.
Accessibility Van Dealers
Companies such as AMS Vans and BraunMobility build and convert vans as a business and are motivated to connect as many clients as possible with funding sources.When a single funding source doesn't cover all costs, a dealer may know ways to connect multiple sources,which can be particularly important on a state and local level. Local dealers of accessible vans are well-placed in the network, knowing when and where donations may originate.