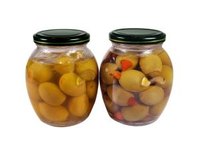 In the age of the Internet, fortunately there are many diets you can research without going to the library or buying a book at the bookstore. At your finger tips is a plethora of diet information and menu plans from which to choose. While some diet plans cost money, there are many that are free, including personalized diets based on your size, gender and needs.
Cross Fit Journal Diet Plan
The Cross Fit Journal diet plan does not state specific meals to eat each day, although there are examples. Instead, it tells you how many proteins, carbohydrates and fats you should be eating. It is not in grams that you will be counting, but rather in "blocks," which are basically just serving sizes. You are allotted, based on your gender and size, a certain number of protein blocks, carbohydrate blocks and fat blocks to eat. For instance, a medium-size female would be allotted three blocks each of protein, carbohydrates and fats for breakfast, lunch and dinner, but only two blocks each for the two allowed snacks. There are several charts listing a variety of foods and how much one block is. For example, 1/3 c. of oatmeal is one block of carbohydrate, and five olives is one block of fat. The nice thing about this diet plan is it allows you to create your own meals and snacks without having to follow a specific meal plan.
Good Housekeeping
Good Houskeeping has a free meal plan that will help you lose 10 pounds in a month. The basic idea of this diet is to keep your caloric intake to about 1,300 calories a day. There is a specific one-week meal plan that you repeat three times. There is no exercise requirement, although exercise will boost your ability to lose weight and allow you to eat just a bit more, if desired. Examples of foods include spinach salad, sweet honey pork and an English muffin with melted cheese.
Dr. Gourmet
Dr. Timothy S. Harlan, M.D., also known as Dr. Gourmet, is a board-certified Internist with a passion for food. He has written a couple of books on healthy eating, made appearances on the Food Network channel and even hosted his own Emmy award winning show on public television. He now has an online resource that provides free diet menu plans for several popular diets. Registration is required, but it is free. You can then select which diet you are interested in: Mediterranean diet, Coumadin, GERD/Acid Reflux, low sodium, gluten sensitive, lactose intolerant or cholesterol lowering. You can search for recipes based on your diet of choice and create a meal plan just for you.