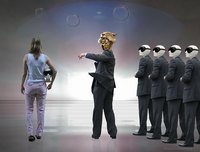 Once a person is placed in a management position overseeing other employees, he may automatically believe he has become a leader. This isn't always the case. There is a big difference between someone who leads and someone who is in a management role. Leaders know how to motivate employees and how to communicate with them. Most important, leaders know the importance of having their employees trust them implicitly.
Communication
Leaders know how to communicate. They have the ability to motivate and encourage their teams. Managers who want to develop leadership skills must learn the art of communication. Start by listening. This is ultimately the most important communication skill one can possess. Listen to what your employees are telling you and make sure you understand them clearly. Use active listening during conversations and repeat back what an employee has just told you to make sure you understand what they are saying. Speak in controlled, well-modulated tones when talking, particularly if the conversation is becoming heated. Do not shout or otherwise berate an employee.
Trust
Trust is an important commodity for a leader. It's impossible to lead a team without it. If your team feels that you may betray them, they will not confide in you. Maintaining a person's trust requires you to be as honest as possible in all situations. There is a fine line as a manager where you cannot tell your employees everything they may want to know. In this case, do not lie or hedge the question. It's best to be upfront and just say that you cannot answer that right now. They will respect you for not betraying the company's trust and also for not lying or being deceitful to them. And finally, always make sure you have your team's back.
Encouragement
Encourage your employees by helping them to set and achieve goals. Call out exemplary achievements at team meetings or by sending out emails to the rest of the team or all of the organization. Reward your team for working hard by taking them to lunch or giving them gift cards to their favorite establishments. Make sure you check your company's policy before giving any gifts away though. If possible, take your team to a fun, off-site event where people can relax and enjoy one another's company away from the office. This will allow you to get to know your employees better, which will allow you to effectively lead them on a one-to-one basis.